F-4M Phantom II FGR.2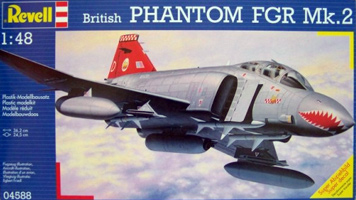 In Box Review & Final Conclusion
The United Kingdom bought versions based on the U.S. Navy's F-4J for use with the Royal Air Force and the Royal Navy's Fleet Air Arm. The main differences were the use of the British Rolls-Royce Spey engines and of British-made avionics. The RN and RAF versions were given the designation F-4K and F-4M respectively, and entered service with the Phantom FG.1 (fighter/ground attack) and Phantom FGR.2 (fighter/ground attack/reconnaissance) British designations.
In 1982 during the Falklands War three Phantom FGR2s of No. 29 Squadron were on active Quick Reaction Alert duty on Ascension Island to protect the base from air attack. After the Falklands War, 15 upgraded ex-USN F-4Js, known as the F-4J(UK) entered RAF service to compensate for one interceptor squadron redeployed to the Falklands. Around 15 RAF squadrons received various marks of Phantom, many of them based in Germany. The first to be equipped was No. 6 Squadron at RAF Leuchars in July 1969. One noteworthy deployment was to No. 43 Squadron where Phantom FG1s remained the squadron equipment for a remarkable 20 years, arriving in September 1969 and departing in July 1989. During this period the squadron was based at Leuchars.
The interceptor Phantoms were replaced by the Panavia Tornado F3 from the late 1980s onwards, and the last British Phantoms were retired in October 1992 when No. 74 Squadron disbanded.
In Box Review
Final Conclusion