Quick Start
If you're new to TeamSpeak or just want to quickly try the product: Download the latest TeamSpeak Client from Teamspeak's DOWNLOAD page and install the software.
Step 1: Open Teamspeak 3 and go to connections and click on Connect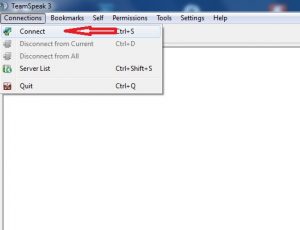 Step 2: In Sever address type = 185.16.85.48:10020
Step 3: In Nickname type = what ever name you wish to go by.
Step 4: No Need For Password
Step 5: Press Connect and say hello.